Premium Birthday Parties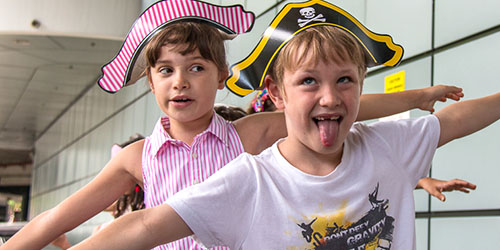 Looking for a uniquely fun way to celebrate your child's birthday? The search is over! Come on board the exclusively chartered DUCK where you and your party guests will be entertained by your very own party host.
We know how exclusive your little one is, so DUCKtours has upped the ante on the birthday game. We now offer specially themed parties that promise to delight every DUCKie — big or little — greatly when you come on board with your very own guest list.
Pirate
Customised to dramatic perfection, the DUCK can be converted into the coolest Pirate ship perfect for a hyperactive, intelligent birthday boy with Caribbean-conquering dreams. Get ready to ride the waves, go in search of gold coins and of course, chorus "Aye, Captain!" while steering the vehicle to safety.
Princess
Be it Disney-inspired, or a modern-day rendition of a Princess birthday party, the DUCK is ideal for the beautiful, highly-imaginative girl. Charter this unique vehicle and give the young lady her very own version of a magical carriage – complete with tiaras, chaperones, sing-alongs, and perhaps a wacky fairy godmother?